Hampton Bay Carriage House Ceiling fan with Manual
Hampton Bay carriage house brushed nickel ceiling fan provides you traditional style with its 4-light kit with white linen glass, brushed nickel finish and reversible bleached cherry/rosewood carved blades.
Carriage house ceiling fan also includes a triple capacitor to operate the fan quietly. It comes with four 60-watt incandescent bulbs.
It embraces the ceiling with its ceiling mount and it is ideal for most home décor places.
The reversible blades enable you to select the color of your choice whether you choose bleached cherry or rosewood. It is versatile and elegant product of Hampton Bay.
Features of Hampton Bay Carriage House Ceiling Fan
5 reversible rosewood/bleached cherry blades allow you to change your decor style without buying a new fan
3-speed reversible function for year-round comfort and saving
4-light kit with white linen glass included in the package
Comes with four 60-Watt incandescent bulbs
Updated traditional hugger style in brushed nickel finish
Made for rooms 12 ft. x 12 ft. to 18 ft. x 18 ft.
Accu-arm blade system to make the installation quick
Offers limited lifetime motor warranty
54 in. lead wires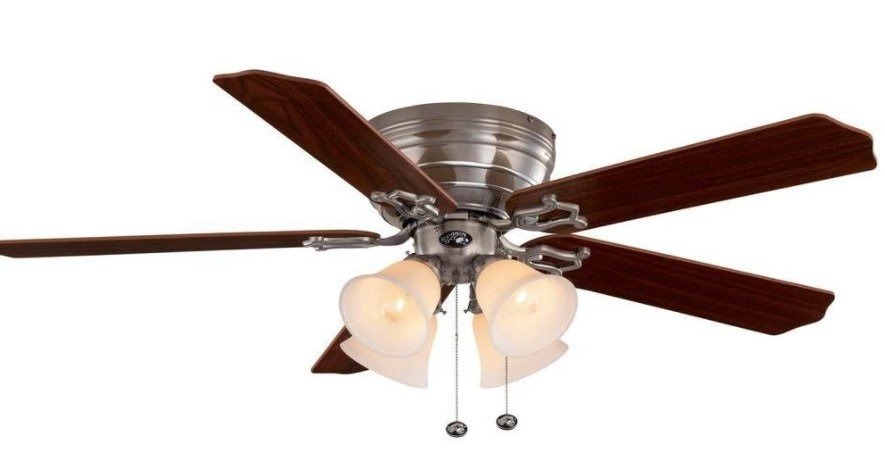 This brand of Hampton Bay is available in three finishes including iron, polished brass and brushed nickel.
It generates an airflow of 4,072 Cubic Feet per Minute (CFM) so it can be selected for any room that is large up to a size of 18 feet x 18 feet.
Carriage house ceiling fan does not have any remote control, however, you can purchase a Hampton Bay ceiling fan remote here and it will work fine.
Can the Lights of Hampton Bay Carriage Fan Be Dimmed By an Independent Dimmer Switch?
Yes, they can be dimmed because the fan comes with a separate wire for the fan light and fan speed. In addition, you can connect the light wire to a separate dimming switch too.
However, you will need a compatible dimmer for LEDs, since this ceiling light kit comes standard with LED bulbs.
Since standard dimmers reduce the voltage to the light bulbs and it will make the light less bright and LEDs do not function at a lower voltage, even if they are dimmable.
They are either off or on with a LED and the dimmers reduce the frequency of the electric pulse that reaches LEDs and they are solid-state.
So you will have to install one of these LED dimmers inside your wall switch. After doing this, you need to disconnect the light circuit from the ceiling fans motor circuit. After this, you would run the wires from the light circuit, through the ceiling and along to the dimmer switch.
However, you think that it is a do-able task, but in my opinion, it is not worth it and you will lose a lot of time. You should hire a qualified electrician to do the task. Unfortunately, it will cost you more than this Hampton Bay ceiling fan.
Hampton Bay Carriage House 52in Ceiling Fan Manual