Have you ever visited your nearest Home Depot or local Lowe's store?
If yes, you will be familiar with the two famous brands including Hampton Bay and Harbor Breeze.
The question arises what is the difference between the two, is it a major or minor? Are Hampton Bay ceiling fans and Harbor Breeze fans the same? To get the answer to these questions, you need to go through this post, we shall discuss everything in this comparison article including the build quality and light kits.
QUICK COMPARISON: HAMPTON BAY VS HARBOR BREEZE
Hampton Bay
Harbor Breeze
Sold By
Home Depot
Lowes
Quality
3 Stars
3 stars
Warranty
Lifetime Motor Warranty
Limited Lifetime Warranty
Motor Type
AC Motors
AC Motors
Lights Used
Candelabra, CFL, Integrated LED,
Medium Base
Candelabra, Integrated LED
Price
$39-$299
$45-$199
BRAND HISTORY
ABOUT HAMPTON BAY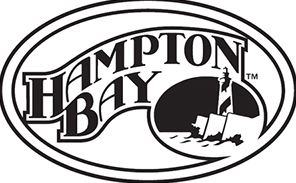 Home Depot owns Hampton Bay brand and works as its house brand for ceiling fans, lighting fixtures and outdoor furniture. Hampton bay itself has been in business since 1986 and provides budget options in a wide range of popular styles.
ABOUT HARBOR BREEZE
Harbor Breeze is owned by Lowe's and it is its house brand for ceiling fans. Like Hampton Bay, Harbor Breeze also focuses on budget ceiling fans. Although the items are sold at Lowe's but the ceiling fans are manufactured by Litex industries. Litex industries not only manufactures and imports ceiling fans but also lighting fixtures as well and they also own a brand known as Craftmade.
PRICE COMPARISON Hampton Bay VS Harbor Breeze
Conclusion: Harbor breeze and Hampton Bay cost about the same with Hampton Bay offering more mid-range models.
Both brands are very similar in respect of price. Harbor Breeze provides a generous selection of budget ceiling fan models that ranges from $45 to $199 when it comes to the expensive ones.
On the other hand, Hampton Bay comes with similar budget models that begin at $39 and their mid-range ceiling fans can cost as much as $299. Hampton bay ceiling fans that are expensive come with larger size and more features. To get an overview of how Hampton Bay compares to higher end brands such as Hunter, check our post on Hunter vs Hampton Bay ceiling fans to see the comparison.
Harbor breeze and Hampton bay are house brands, both of them offer budget ceiling fan in market and neither brand has an edge in terms of price. You can most likely to observe a price difference during the sale events at either Home Depot or Lowe's where reduction in price on ceiling fans may a competitive edge over the other.
BUILD AND QUALITY COMPARISON
Conclusion: Both brands provides same build quality yet Hampton Bay has a slight edge on their mid range models of ceiling fans.
When we go through the build quality and materials of both brands Harbor Breeze and Hampton Bay ceiling fans, we come to know that they share common interests. Both brands use ABS or Plywood blades in most of the ceiling fan models. We have observed a model that comes with metal or real wood blades in Harbor Breeze ceiling fans, whereas Hampton Bay offers upgraded blade materials when it comes to the most expensive units. Both brands manufacture plastic or glass light kits.
There is not much difference in terms of motors quality and energy efficiency as each brand produce quality motors. Almost all Harbor Breeze and Hampton bay ceiling fans offers 3-speed reversible settings on motors. Although the advanced ultra quiet motors are developed with DC motor technology, both Hampton Bay and Harbor Breeze still only using AC motors in most of their models. This cutting edge lacks in motors and common with budget price ceiling fans which pay attention their prices, to keep them low.
When you will observe the mid range ceiling fans designs by Hampton Bay, you will see a slight edge there with features and design elements including decorative motor housings, real wood blades and advanced wall control feature. The cost of these units is more than $199. Although they are not high end units as compared with other brands on the market, Hampton Bay's mid range fans offer better quality than their cheapest budget price models.
HARBOR BREEZE VS HAMPTON BAY LIGHT KITS Comparison
Conclusion: Both brands install candelabra bulbs in most of the units, but if you want to get regular size bulbs than choose a Hampton Bay fan.
At times, you may need to install a ceiling fan light kit after purchasing the fan. But replacing the light bulbs is another task of having a ceiling fan. So it should be in your checklist to find the correct bulbs whenever you purchase a new fan.
Most Harbor Breeze ceiling fan light kits use small candelabra E-12 bulbs, but now the modern models of Harbor Breeze are constructed with integrated LED light kits that do not require light bulbs due to built-in lights. The lighting fixture depends on the model of the fan, so read the specifications first to know about your purchase in detail.
Hampton Bay ceiling fans also use the candelabra type bulbs in their light kits similar to Harbor Breeze. A few of the newer models by Hampton Bay come with LED light kits, which means "bulb-less" built-in feature. if you want to use medium-size bulbs in your ceiling fans, there you need to get a Harbor Breeze model, they do have some ceiling fans with light kits that use medium bulbs. It will be a good point for those who do not want to get in trouble while looking for special sized bulbs when it's time to replace them.
Do you want to change the current Hampton Bay bulbs? If yes, check our Hampton Bay replacement bulb guide and our handpicked products.
WARRANTY COMPARISON
Conclusion: Both brands Harbor Breeze and Hampton Bay offer limited lifetime warranty.
Harbor Breeze comes with a limited lifetime warranty for most of their models. This warranty covers the motor and the defects of the manufacturer. Similarly, Hampton Bay also offers a lifetime warranty on the motor. Both Home Depot and Lowe's covers additional warranties that include labor and parts when you buy a ceiling fan from online store or in-store.
Since both brands Hampton Bay & Harbor Breeze are house brands of big stores, it is necessary to keep in mind that any manufacturer warranty claims will have to go through either Home Depot or Lowe's respectively.
THE FINAL VERDICT:
To conclude this Harbor Breeze vs Hampton Bay comparison, we can say that they offer similar models in the same price tag. Unluckily, you will not see much difference in terms of motor quality, material and build at the lower end. Those who want to buy a ceiling fan under $150 will get energy efficiency, quality and airflow of same whether your purchase a Harbor Breeze or Hampton ceiling fan.
The mid range of Hampton Bay fans has a slight edge that cost between $200-$300. Here you will be able to see an interesting design with upgraded material at the same time. Hampton Bay also wins in terms of light bulbs, as they have models that use regular medium size bulbs. Although candelabra bulbs offer energy efficiency, most of them use 40 watts and do not produce much light. Whereas LED bulbs of medium base offer low power consumption with powerful lighting.
What is Next?
Have you made your mind about buying a ceiling fan after reading the comparison? If yes, here is a list of best ceiling fans from Hampton Bay and Harbor Breeze, you can also check other famous brands like Hunter and Honeywell here.