Art Deco is a decorative and architectural style movement that came into existence in 1920s in the regions of United States and Europe. In this modern age, the style has become prominent in interior design.
We have compiled the list of art deco ceiling fans that come in stylized geometric shapes, gold tones, chrome and bold industrialized designs. Although it is a hard nut to crack to find a vintage art deco ceiling fan replica, that does not mean that you cannot include a feature-rich modern ceiling fan into your interior areas to get an authentic look.
BEST ART DECO CEILING FANS
Emerson Laclede Eco ceiling fan is one of the few models on the market that can provide authentic art deco style elements. As a result, you get an art deco ceiling fan that features iconic elements including chrome accents, stylized geometric shapes and a vintage style light kit with modern features including a powerful 6-speed DC motor and remote control to control the unit.
SculptAire ceiling fan by Fanimation is a piece of art due to its uniquely shaped blades and stylized gold motor housing. It contains 3 speed motor and powerful 18 watt LED light kit, a functional ceiling fan with luxurious style with great performance. It is an ideal choice for those who want an art deco ceiling fan with light and brass gold elements.
Craftmade illusion is a 56-in ceiling fan that can make your space unique. If you want a unit that is a bold art deco ceiling fan with light then you will choose these polished chrome textures and symmetrical forms that add beauty to its design. This ceiling fan by Craftmade creates the illusion of slower movement with its two acrylic blades and provides you the tremendous airflow. This 56 inch unit is designed for larger bedrooms, living rooms, entertaining areas to attract the eyes of the people with its illusion.
Progress Lighting Shaffer ceiling fan provides a streamlined design for people who want to add uniqueness to their place with their ceiling fan. Shaffer is another art deco ceiling fan that is designed with sharp angular fan blades. With its sharp blades, it contains a simple yet industrial motor housing and architectural bronze around the motor to illustrate the art deco styling.
Fanimation Kute ceiling fan is available in two sizes including 44-inch and 52-inches. Due to the diverse sizes, Fanimation Kute can be an ideal choice for small to medium rooms that want to showcase the style. Kute by Fanimation is available in a number of finishes options such as white, bronze, brushed satin brass that can be installed with art deco interiors with ease.
Both units of Kute are available without a lighting fixture, but you can purchase the matching light kits separately in case you need it.
It is a mixture of modern forms and minimalist design, Irene H by Matthews fan company is an ideal choice for any space that needs a stylish low profile art deco ceiling fan in white, gold or black finish. The great thing about this unit is that the finishes of the unit are fully customizable. It enables you to select the color of the fan blades as well as the motor housing to match as you like.
Craftmade Anillo is a sophisticated and cosmopolitan yet unusual model that will add a touch of style to your place along with cool air wherever you install it. this ceiling fan is ideal for smaller rooms and spaces due to its 36-inches blades but in larger spaces, you need to install more than one unit to create a unique and attractive look. The enclosed ceiling fan design is liked by the customers and it is a small art deco ceiling fan that has an integrated dimmable LED lights along with a formal look.
WHAT IS ART DECO?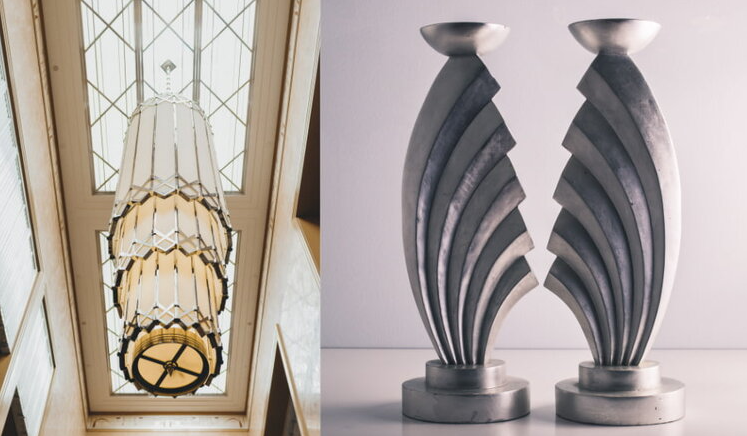 Art Deco is a style movement in the decorative arts and architecture that became eminent during the 1920s and 1930s in the Europe and USA. The style gives rise to 20th-century modernism, cutting-edge materials and technological innovations. Therefore, Art Deco design pays attention to strong geometrical shapes, clean lines, man-made materials including chrome, plastic and stainless steel.
WHAT MAKES A CEILING FAN ART DECO?
After doing research online, you will come to know that very few ceiling fans are made specifically keeping in view the Art Deco style mind. You need to be creative from your part in order to add a modern-day ceiling fan in this early 20th century style.
Choosing a great Art Deco style ceiling fan is as easy as finding a unit that contains the right colors and shapes to add value to your Art Deco décor. Here are the best tips to find a great Art Deco Ceiling fan that is compatible with your room.
STRONG SHARP LINES ACCENT
The Art Deco style is marked with the mixture of modern lines, sharp edges and the use of rectilinear and symmetrical forms. You can select a ceiling fan by emphasizing on these components to compliment your home décor.
When finding this type of fan, you can select a ceiling fan that contains sharp rectangular-shaped fan blades instead of softer more circular forms. The housing body of the motor may also display crips lines available in industrial and modern styles.
ART DECO SHAPES AND FORMS
Apart from sharp industrious lines, Art Deco is also renowned for its interesting patterns and shapes. It includes triangular shapes, sweeping curves, sunburst shapes, zip zag and chevron patterns, etc.
You can enjoy the bold shapes and patterns of Art Deco style ceiling fan when you get one. Art Deco décor is compatible with mid-century modern elements as well as industrial style elements if they contain Art Deco inspired patterns in it.
The Art Deco comes from Aztec and Egyptian motifs that is why you can add elements including stepped forms, sunbursts and chevrons into the design of the fan and it will be compatible with the overall style. In addition, you need to focus on the blades and motor housing of the fan to check if they can add beauty to your Art Deco furniture and interiors.
ART DECO COLORS AND MATERIALS
Art Deco is renowned for its use of luxurious materials and bold colors. You can be in accordance with the home décor by selecting the ceiling fan that contains the same material and colors.
Common Art Deco colors are bold colors including blue, red, green and yellow. There are hardly pastels or soft florals available in Art Deco style. Further, the use of neutrals is also very much with favorites being white, black, creams and beiges. The color palette should contain bold as well as contrasting.
Art Deco is renowned for its use of luxurious and manmade natural materials. Reflective surfaces including polished metals, chrome and mirrors are the characteristics of this style. In addition, upscale materials including gold, exotic woods, marble and ebony are also common in Art Deco designs.
Choosing a ceiling fan made from chrome, polished metals and exotic wood is the best way to remain in accordance with the style. The bodies of ceiling fans made from a brass gold finish are also the best way to incorporate the unit into an Art Deco room. The selection of ceiling fans made with the right materials is also the main factor as the shapes and the overall design. The ceiling fan-made material can say a lot with just its made material.
What's Next