Harbor breeze 52-inch Armitage is a low-profile ceiling fan that is very attractive in terms of looks. If you are preferring this classical ceiling fan for your place, you might be wondering about its reliability due to its low price, but the good part is, many users considered it reliable due to its performance. If you already have a model of 42-inches and looking for a manual, you can get the manual below.
This traditional style Harbor Breeze 52-inch Armitage Ceiling Fan is easy to find on Lowes @ $59.98 and $64.90 on Amazon. As it is low profile so it will be mounted directly to the ceiling and designed for indoors. The large bedroom is suitable for this fan that is 400 sq ft and featuring four different housing finishes, available in 5 reversible blade finishes that give you different choices to make it suitable for your space.
In this article, I am going to discuss the pros and cons of Armitage ceiling fans. Apart from that, the manual is also available to download in this article below. Additionally, there is some troubleshooting tips are also added related to this unit.
Harbor Breeze Armitage Features and Finishes
The Harbor Breeze Armitage 52-inch is featured in 4 housing finishes along with five reversible blades as they are shown in this article. The finishes of the unit complement the blade finishes enabling it to attract the visitors.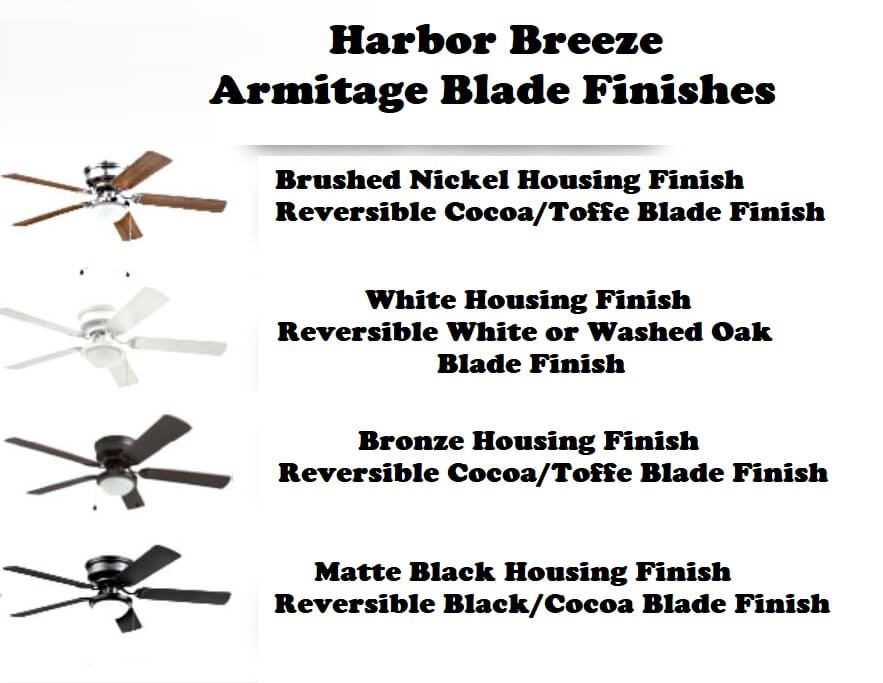 As I have already stated that the Armitage ceiling fan comes in a low-profile category so this cannot be used for high ceilings. As it has a reasonable price, and users are attracted to it. It is a general rule, when the cost is low, the company cuts down some features too.
The simplicity of Armitage ceiling fan is the one of the pros that attracts most users with the pull chain feature that uses 3-speed settings. On the top of the light bulb, a reversible button is available that can be pushed down in the summer season and up in the winter to provide warmer experience. Armitage ceiling fan contains a frosted LED bulb along with a dimmable function that ensures energy efficiency.
Here are some more features of the Armitage 52-inch ceiling fan:
traditional design that will be compatible with most indoor decoration
pull chains can be used easily
3-speed levels that can be adjusted easily
The lighting fixture, can be switched on and off easily
To ensure less energy consumption, a dimmable LED light bulb
wide- range of options in terms of finish/color
5 reversible blades
made for regular to big rooms or offices up to 400 sq ft
let's go through some of the pros of this ceiling fan. If you want a high-tech ceiling fan, it is not recommended that you get Armitage for it as it is not compatible with Wi-Fi and there is no remote control, it is not working with Google Assistant and Amazon Alexa and other smart tech including Bluetooth. Other ceiling fans with tech features do have these options. But when you see the price tag, you will think that these options will not be supported.
If you are looking for a smart ceiling fan from this brand, you can check some other models from its category page: Harbor Breeze.
The Harbor Breeze Armitage Ceiling fan is featured in a smaller 42 inch size that is made for smaller rooms. After doing research, I have found that 42-inch is only featured in white housing with 4 reversible blades and blonde or white finish.
Harbor Breeze Armitage Ceiling Fan Replacement Parts
If you are currently using Armitage and looking for a replacement part for this model, I have added model number and item number of its models in this article. This information is imperative when you will contact customer support and you have to tell it in order to continue the talk.
| | | | | |
| --- | --- | --- | --- | --- |
| ITEM | ITEM NUMBER | MODEL NUMBER | HOUSING FINISH | BLADE FINISHES |
| | 915543 | 41391 | Brushed Nickel | Cocoa and Toffee |
| | 1133113 | 41690 | Bronze | Cocoa and Toffee |
| | 2758983 | 42480 | Matte Black | Black and Cocoa |
| | 807426 | 42600 | White | White and Washed Oak |
To get help from a customer representative, you need to check this article on "How Do I Contact Harbor Breeze Customer Service" and it will be helpful for you to contact the Harbor Breeze Manufacturer.
You might know that Harbor Breeze gives a universal remote, so you will be able to make this unit compatible with a remote control.
For detailed information on ceiling fan parts, you can check our article on: Harbor Breeze Replacement Parts.

Is Harbor Breeze Armitage Ceiling Fan Noisy?
If you have installed the Armitage ceiling fan correctly, it will not be noisy. The noisy ceiling fan can be frustrating but it is also a sign that something is wrong. But the best part is, you can fix a noisy ceiling fan easily. Here are the tips you need to follow to fix your noisy ceiling fan.
Fix the blades in the fan assembly firmly.
Check if a fan needs oil- this tip is helpful for a ceiling fan that works well for a while then suddenly starts making noise.
Check the troubleshooting guide and fan manual that came with the package.
Make sure that the fan has been installed correctly- in some situations, noisy ceiling fans can be a result of loose screws, and may just need tightening. If the noise is still there, you need to do the installation again you may have to contact customer service.
Harbor Breeze Armitage Ceiling Fan Globe
The replacement of the Armitage ceiling fan Glass Globe is possible only for the Armitage 52-in ceiling fan. The globe has a nice twist on design and designed to install with ease.
The Armitage Ceiling Fan Globe features:
Available in white frosted glass
Easy twist on glass shade: item number 807426
Made for inner use
Easy to install
However, we want to tell you that some users of the replacement glob stated that the globe was within a millimeter or it is tight fit. Even though it is similar to the original that was replaced, it was not easily fitted.
Another issue with the unit is that it is not designed with shatter proof glass, if it gets loose and falls, it will get smaller into pieces. If it was constructed with a safety screw or latch to avoid the falling, it would be perfect.
When I am writing this article, the replacement Globe can be seen on eBay for around $30, Amazon and Lowes have it at $8.98
How Do I Change the Bulb of my Harbor Breeze Armitage
A standard-base 6.5 watt LED light bulb will be used as a replacement or you will need an incandescent/CF/halogen equivalent, up to 60 watts.
Always ensure that you have switched off the power switch and ensure that the globe and the bulb you are going to change has cooled down then remove it.
You will get the detailed information on changing the light bulb in the downloadable manual below.
Download the Harbor Breeze Armitage Ceiling Fan Manual
You can download the PDF manual for Armitage 52-inch ceiling fan below for your personal use.
Download Harbor Breeze 52 Inch Armitage Ceiling Fan Manual
If you are looking for 42-inch Armitage Ceiling Fan Manual, click below as there is a download link for it too.
Download Harbor Breeze 42 Inch Armitage Ceiling Fan Manual
If you want to check more manuals, check Harbor Breeze Ceiling Fan Manuals.
Final Words
To conclude, Harbor Breeze Armitage Ceiling fan is worth the price. It has more than 3000 reviews with an average rating of 4.5 stars out of 5 stars. So, it can be a reliable option.