Do you want to know how a ceiling fan works? Here is an article that will help you.
These days, ceiling fans have become a part and parcel of any modern house. It provides the most comfortable air in the summer season during the hot day along with cost-effectiveness.
Ceiling fans work very good but a lot of us are curious to know behind the scenes of how a ceiling fan works. What causes them to provide a cooling experience to us though they do not have air conditioning? Do they really cool down the temperature? A lot of questions come to mind.
If you are not an expert of ceiling fans and want to learn more, this article will help you. In this article, you will see the mechanics of a ceiling fan and tell you how it works. And the relevant topics will also be illustrated.
Here is what you need to know.
What is a ceiling fan?
Though you will be familiar with what a ceiling fan is, since we are focusing on the basics of a ceiling fan, it will be pertinent to first define what a ceiling fan is.
According to Wikipedia, "A ceiling fan is a fan mounted on the ceiling of a room or space, usually electrically powered, that uses hub-mounted rotating blades to circulate air. They cool people effectively by increasing airspeed."
A fan that is mounted on the ceiling to provide air and as a result "make us feel cooler" is known as a ceiling fan. Focus on the double quotes. The point is important. We will tell you later.
Ceiling fan parts
A ceiling fan contains multiple different parts, each of which performs a unique role to play. We are going to discuss each of them briefly below.
Hanger ball
Hanger ball may be the highest part of a ceiling fan. However, it is difficult to see it from the floor. The reason for its invisibility to us is its location which is right inside the upper canopy. The structure is similar to half-ball that goes with the downrod and attaches the ceiling fan to the ceiling firmly.
Canopies
At the ends of the downrod, there is a dome-like component which is known as canopy. Their purpose is not more than hiding the wires. So, the purpose of canopies is to boost aesthetics rather than functionality.
Downrod
It is made of metal that joins the fan to the ceiling. It does not mean that the fan cannot be connected to the ceiling directly, but it is used when the ceiling is high, the downrod can make the ceiling fan taller by adding a distance between the ceiling fan the fan. downrods are available in different sizes keeping in view the needs of the user. The downrod is a part and parcel of the whole fan when it comes to dealing with the high ceiling. It also adds the touch of efficiency to the unit.
Motor
The motor is the main part of a ceiling fan, without it, the fan does not work. The aim of the motor is to rotate the blades of the fan. In short, the fan is not possible without a motor.
Blades
The circulation of the air is not possible without ceiling fan blades. They are responsible for it and they are made of wood, plastic, or metal that sit at the angle known as "the pitch". When the fan turns on, the blades move in order to create the air circulation.
Lights
Sometimes, the lights need to be added to the fans. the ceiling fan can work properly even without them. Their aim is to provide brightness to the space. They can take place of other lights too. On most fans, they can be controlled differently from the fan. In this modern age, ceiling fans are capable of using LEDs, Halogen and Edison light bulbs.
Light Globe
Light bulbs are covered by light globes. At times, they need to be installed uniquely for each bulb, sometimes they can cover all the bulbs with one.
Pull-chains
Pull chains can be used to control a ceiling fan and they hang from them. they are similar to the chains on trains. To control the fan and the lights, you need to pull them. some modern ceiling fans are not equipped with them, instead, they use a remote control or wall switches for that purpose.
Remote Control
All ceiling fans do not provide remote. Some modern ceiling fans come with them. by using a remote, you can control the fan from a distance conveniently without leaving your comfort zone or move physically. Modern ceiling fan remotes come with additional features including "Natural Breeze Simulator", "Turn off delay", etc.
How a ceiling fan works
Ceiling fans are remarkable engineering. They depend on the phenomenon of Windchill effect to cause a comfortable breeze on a hot summery day.
A ceiling fan works by turning electrical energy into mechanical energy to boost the natural wind. When the wind blows, we get a cooling experience from it. The same function is done by the fan. The electrical energy is used to move the blades. On the body of the ceiling fan, the blades are attached at a pitch. This factor comes into action when the fan speeds up and blades cause an airflow. This can be felt as the blowing breeze that you feel outside naturally. In both situations, the airflow causes the same effect on our bodies. We experience cooling. It is opposite to what you might think about a ceiling fan, as it does not cool down the air, it moves air instead, which causes the cooling experience, the feeling is same as outside on a breezy day. This is how a ceiling fan works.
Types of ceiling fans
Ceiling fans are available in different types. You can categorize them keeping in view a lot of factors. Here is a classification of ceiling fans based on different factors.
Flush Mount, Downrod Mount, Angle Mount
We can also classify ceiling fans in terms of mounting options. In this scenario, there are three types of them. Flush Mount, Downrod mount and Angle mount.
Flush mount ceiling fans can be installed without a downrod, completely hugs the ceiling. This type is used in low-ceiling areas.
Downrod mounts can be regarded as downrod ceiling fans as they are installed with a downrod.
Angle mount does not need explanation. This type of ceiling fan is installed at an angle on a sloped ceiling.
Outdoor vs. Indoor ceiling fans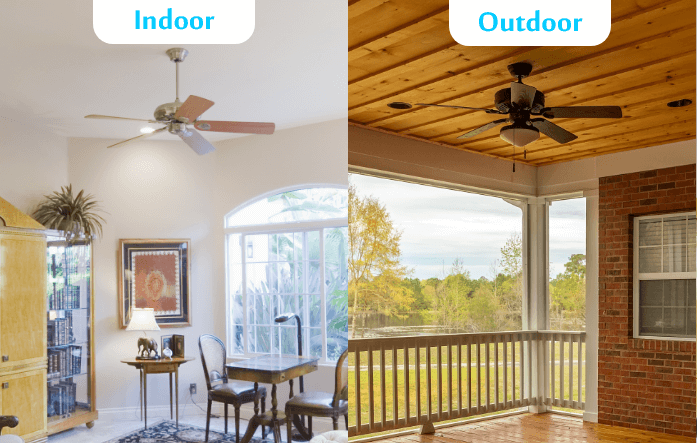 The most important category to discuss in terms of ceiling fans is Outdoor vs indoor. This is an important point to think about when it comes to purchasing a ceiling fan. Indoor and outdoor ceiling fans may seem the same but they are designed for different spaces with different abilities. In these classifications, there are 3 types of ceiling fans including Damp rated, Dry rated, and Wet-rated ceiling fans. Damp rated ceiling fans are designed for covered outdoor places including porches and covered patios. Dry rated fans are designed for indoor places which are completely covered from outdoor elements including living rooms and bedrooms. Wet rated fans are built for uncovered outdoor spaces including verandas and pergolas. Outdoor fans can be used outdoors as well as indoors, while indoor ceiling fans cannot be used outdoor, they can only be used indoors instead. You can learn more about them here: Outdoor vs. Indoor ceiling fans.
Retractable vs. Non-retractable
Another feature to set apart the ceiling fans from their category is retractability. There are two types in this category. One is the normal one where the ceiling fans contain normal and fixed blades. The second type is where blades can be retracted inside to make the fan like a chandelier. When you need a cooling experience, the blades can come out, enabling to look like a ceiling fan.
With lights vs. Without Lights
Some ceiling fans are packed with lights and some are without them. Modern ceiling fans are equipped with LED and Edison bulbs.
Other types of ceiling fans
Other types of ceiling fans are unusual type. This type contains units that do not expose blades. At times, these are also categorized as box ceiling fans.
Price of ceiling fans
The price tag of ceiling fans can be different. If you go through the market at this age, you will find that ceiling fans are available in range of $80 to more than $1000. The price tag can be changed in terms of brands, sizes, features and materials that a fan uses.
The efficiency of Ceiling Fans
There are only two options in terms of HVAC including fans and Air conditioners. Both are designed to give a cooling experience. And they perform their job pretty well. They can be classified as siblings in this category.
However, when it comes to energy consumption, the difference is very clear. In this field, ceiling fans are way ahead of them. I cannot compare them in other ways, still you can get pretty much the same experience with ceiling fans at low cost.
The reason behind it is that an average AC unit will use 1000-2500 watts to function whereas the ceiling fan can work at only 20 watts of power. After reading this, you can easily finalize that a ceiling fan does not need much power, one fiftieth of the power that an air conditioner uses.
If you are using both AC as well as ceiling fan, you can reduce the cost of electricity more. You can read about it here.
Aesthetic Value of Ceiling Fans
Ceiling fans not only provide cool air but also appeals the eyes of the visitors. In the past, ceiling fans were designed to give the cool air in summer season. In this age, ceiling fans kill two birds with one stone, provide cool breeze and are aesthetically appealing. Modern ceiling fans have the ability to spruce up your interior setting instantly. In fact, it is nearly impossible to have an interior without having a ceiling fan there, it can be the living room, bedroom, kitchen, bathroom, laundry room or hallway. When it comes to patio or porch, the aesthetics need a ceiling fan there. So nowadays, ceiling fans not only work as cooling down, they are also decoration appliances. You can also see our articles on: are ceiling fans outdated, and pros and cons of ceiling fans.
Good Ceiling Fan Brands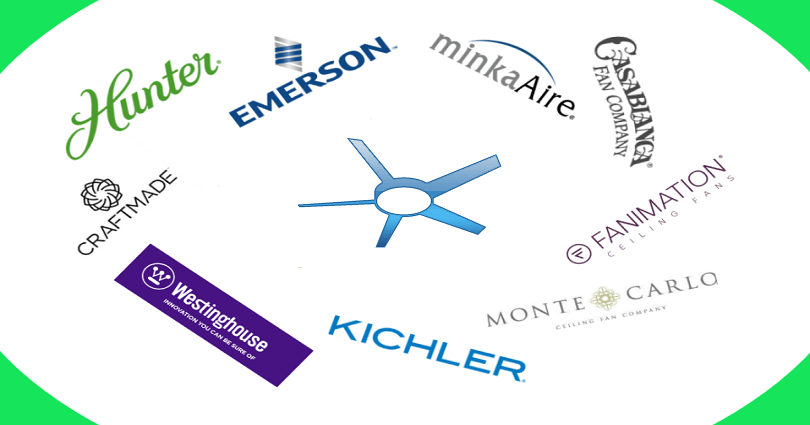 The market is replete with ceiling fan brands today, each designs the best ceiling fans. However, we cannot rely on all of them.
We have written a comprehensive article on the best ceiling fan brands. You can read it here: best ceiling fan brands.
If you want me to give you the names, I highly recommend that you choose from the brands like Hunter, Kichler, Minka-Aire, Honeywell, Modern Forms, Craftmade, and Prominence Home.
How to Choose a Ceiling Fan
You might want to ask how to select the next ceiling fan?
What are the features to keep in mind while choosing one?
To answer that, I recommend that you have to keep a lot of points in your mind when purchasing a ceiling fan.
You have to find out what type of ceiling fan you need. Whether it is an indoor fan or outdoor fan, flush mount, angle mount or normal? What is the size?
I have answered all the questions in this article: how to buy ceiling fans.
Misconceptions
After that, it is time to expose some misconceptions about this masterpiece of engineering. Let's get started.
Ceiling fans cool place
There are a lot of people who do not know how ceiling fan works and think that they are like air conditioners and cool down the place which is not the case. The face is the opposite. The function of ceiling fan is to circulate the air rather than cool the space. When this high-speed air circulates over our bodies, we feel cooler, similar to the wind outside.
In reality, ceiling fans cannot cool down the temperature of the room which is possible by an AC unit. In fact, they can increase the temperature. The reason behind it is the heated motor. This temperature increase is hardly noticeable.
Ceiling fans consume a lot of electricity
If a person is not familiar with ceiling fans, there is no doubt in saying that he/she will think that ceiling fans use a lot of power to operate. However, a simple check will guide you that it is not the reality. Ceiling fans do not cost you more than pennies. An average ceiling fan will use more or less 20 watts when running at an average speed that will cost around $15 per year. That is why they are very cost efficient.
Frequently Asked Questions
Can ceiling fans kill you?
Ceiling fans hardly cause death. A ceiling fan will not harm you if it is installed properly. When you get hit by a ceiling fan, it can be dangerous but not life-threatening. When it comes to babies, this event can be fatal if they get hit by it.
Can ceiling fan fall?
If you are a new user and have it installed for the first time, you will definitely think about whether it will fall. However, it hardly happens. In rare cases, when ceiling fans fall, the reason will be improper installation or poor maintenance. Check the detail answer here: can ceiling fans fall?
What ceiling fan size do I need?
The common ceiling fan size is 52-inches. However, the exact size can be selected keeping in view the size of your room. To get more detail, you can check our article on: how to measure ceiling fan size.
What ceiling fan moves the most air?
When it comes to determining the airflow, CFM/W is the main key to consider. When you are looking for a ceiling fan that moves the most air, get a high CFM/W rating fan and you will get the good airflow with it.
Last Words
This is our point of view on "how a ceiling fan works". We hope that this article will be interesting and helpful to figure out the working of a ceiling fan.
Are we missing anything that you want to add? You can leave it in the comment section. Do not forget to share this post.