Upgrading your ceiling fan from a traditional CFL bulb or incandescent bulb to an LED bulb will be a great upgrade to your ceiling fan lighting fixture as well as your wallet. LED bulbs are cost saving bulbs and they are rated as cost savers for the long term as you do not want to change the light bulbs more often. Since they use significantly less energy, so using an LED bulb for your ceiling fan will save the cost of energy as well. We have added the best LED bulbs for ceiling fan lights and they are based on size.
DETERMINE YOUR CEILING FAN LIGHT BULB SIZE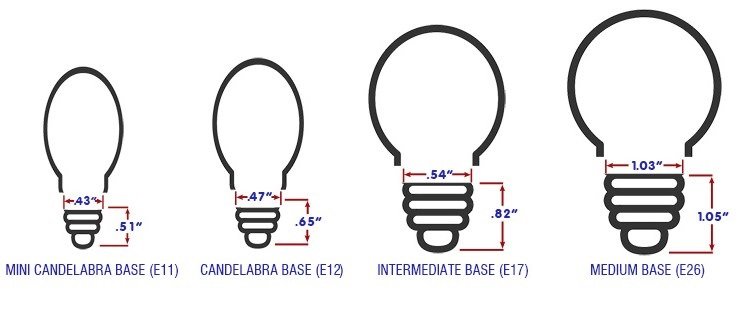 When it comes to deal with the sizes of light bulbs in the ceiling fan light kits, ceiling fan manufacturers can use a number of light bulbs sizes. It may differ from unit to unit. It means that all the ceiling fans do not use the same size light bulbs right? This can cause confusion when you need to change, replace or upgrade your light bulbs.
The most common ceiling fan bulbs used by the brands are Candelabra and intermediate. The latest ceiling fans may need mini candelabra while older ceiling fans may have a standard medium light bulb fitting.
The easiest way to know about size of LED bulbs, you need to measure the base of the bulb that is already installed in your existing fan. After measuring it, you can use the chart above to know the LED bulb size to determine the measurement of currently installed light bulbs in your ceiling fan.
CANDELABRA LED BULBS FOR CEILING FAN LIGHTS
Candelabra base bulbs are one of the most common types of LED lights that are placed in ceiling fans. We suggest two different shapes of candelabra lights so the ideal fit can be found for your ceiling fan light kit style.
PHILIPS DIMMABLE CANDELABRA LED BULBS
People who want a slim or stylized candelabra base LED bulbs, they can get these decorative Philips ceiling fan LED bulbs. By using 4.5 watts, they perform equivalent to a 40W incandescent counterparts. They come with more or less 15,000 hours lifetime that make it a long-lasting and affordable alternative to traditional incandescent lights.
HANSANG CANDELABRA LED BULBS
If your ceiling fan has multiple lighting fixtures that need candelabra bulbs, these Sunlite LED bulbs work well there.
Sunlite bulbs come with 6 watts only but they are suitable for a 60-watt incandescent replacement. It means that you save the cost of energy throughout the life span of the bulb. Sunlite LED bulbs are available in both warm white and daylight.
MINI CANDELABRA LED BULBS FOR CEILING FAN LIGHTS
A plenty of ceiling fans use mini candelabra bulbs in the light kits. When you are looking for LED bulbs for ceiling fans, you will come to know that most of mini candelabra bulbs are incandescent. It is because the ceiling fan rattles when it is running and it can make the life of a bulb shorter. Getting an LED mini candelabra bulbs can result in long-lasting life with low energy costs for the same light output, how good is that? Pretty good! right.
WESTINGHOUSE E11 LED BULBS
When it comes to getting LED lights for ceiling fans, especially for existing one, finding good quality mini candelabra bulbs may be difficult as compared with traditional light bulbs. Fortunately, Westinghouse has designed some of the best options to choose for your ceiling fan, they meet today's energy sufficient standards too. In addition, the bulbs are damp rated and dimmable so they are best suited to both indoor as well as outdoor ceiling fans. At only 5 watts, these can become a good replacement for 40W or 50W ceiling fan bulbs.
INTERMEDIATE LED BULBS FOR CEILING FANS
In most of the ceiling fan models, Intermediate base light bulbs are a common size. Intermediate base LED lights come with a smaller base, unlike your household light bulbs. Shifting to an LED bulb gives you great energy cost savings while maintaining the preferred wattage, it means long life with low energy cost.
FEIT INTERMEDIATE BASE LED BULBS
If you are looking for the best LED bulbs for ceiling fans then these Feit bulbs are your best choice. The high quality of these LED bulbs gives you access to full-range dimming, instant on brightness and they are rated for a 13-year lifetime.
It comes with LED filament design that offers long-lasting LED technology with a classic filament look that can match any décor. This type of LED bulbs for fans can replace the 75-watt bulbs with its 8 watts. They are available in daylight and soft white.
EMERYALLEN INTERMEDIATE BASE LED BULBS
Emery Allen bulbs for ceiling fans are ideal for ceiling fans with enclosed light kits and limited room. They have the equivalent output of about 50 watt incandescent and they can provide the same performance at only 5 watts.
Emery Allen features 25,000 hours of life period and offer incredible heat dissipation, in addition, they also reduce the cost of electricity and make sure that you have to change the ceiling fan bulbs less often.
MEDIUM BASE LED LIGHTS FOR CEILING FANS
Some ceiling fans install regular-sized medium based bulbs in the light kits. A number of ceiling fan manufacturers use the wattage at 40W or 60W unlike the ceiling light or household lamp. It indicates that traditional bulbs with more wattage will not provide output light to its full capacity or may fail to work.
An easy solution to this problem is to switch to LED lights that consume less wattage without compromising the output of the light.
BULBRITE DIMMABLE LED LIGHT BULBS
Bulbrite features high-quality medium base LED light bulbs that are available in 9 watts only to offer an energy-efficient experience. These LED light bulbs for fans offer dimmable features and they are compatible with a number of dimmer types especially available in ceiling fans.
These Bulbrite bulbs can replace the 40 watt equivalent lights with its 9 watts (800 lumens). It is rated to last for more or less 25,000 hours, each bulb is energy star rated to save the cost of energy over time.
CREE DIMMABLE LED LIGHT BULBS
Cree designs a multi-functional LED light bulb that is ideal for medium base sized ceiling fan light kits. We suggest this item to everyone who wants to get the bright high-quality bulb that lasts for years to come (offer 22 years of a lifetime). At 10 watts, it can replace the 60-watt bulbs.
Related Read: