Looking for some Quorum ceiling fans? Check the list of our Quorum ceiling fan reviews guide for some recommendations which are chosen by us from all their models.
If you install a splendid Quorum ceiling fan in your house, your home will be more comfortable and peaceful. However, there are several models of Quorum in the market that contain different features that may cause confusion to its buyers. Also, you need to pay attention to various factors such as the size and height of your room, exposure to elements, and so on. The longevity of the product is also necessary to get value for your money.
In this article, we are going to discuss them one by one. You will also see the pros and cons of Quorum ceiling fans, whether you should buy them or not, what buyers are saying about them and so on.
Why Quorum Fans?
The brand of Quorum has been in the business for over 30 years now. The ceiling fans of this company are made to boost the circulation of air in homes, offices as well as buildings. Additionally, they are stylish and available in various designs as well as sizes. They are perfect for decorations whether it is internal or external. Well-known Quorum collections are Windmill, Monticello, Monaco, Alton, Proxima, and Capri.
In addition, the option is for everyone regardless of their design differences. Whether you are looking for contemporary, traditional or modern fans, they offer a design that is suitable for your class.
Also, you can also give preference to Quorum ceiling fans when it comes to energy efficiency. They don't compromise the airflow, therefore, you can save the cost of energy when you utilize them. According to research, ceiling fans can reduce the cost of the energy by 20% as compared with typical fans. The lighting fixtures are also available in different varieties to support the lighting feature for your room without any additional money.
When it comes to manufacturing, the company's engineers are using high-quality materials to develop the fans. That is the reason people are buying this brand from the market since they believe the unit would last longer. The units are not only beautiful but they are also durable too with a variety of finishes to select from.
Also, if you live in a rustic or mission-style home, there is Quorum item for you to utilize. It is not a child's play to get a perfect fan for this type of home. But the innovativeness of the brand enabled many users to cool down their places without making a big hole in their wallets.
The designs of this brand have exotic influences that is why they have come up with their own niche for the market. As a result, it has become one of the most trusted names in the market whenever you discuss ceiling fans.
Best Quorum Ceiling Fans in 2023
Without wasting time, here are our best selections and recommendations of the best Quorum ceiling fans —
1. Quorum Windmill 72-inch Fan – Best Statement Piece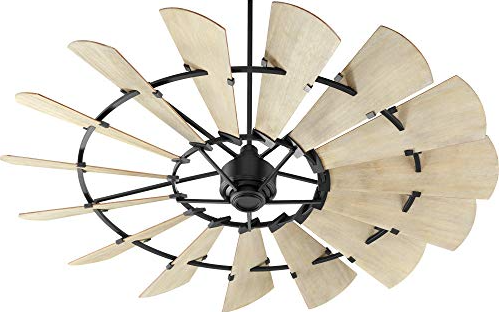 The Windmill 72″ model by Quorum is a masterpiece that makes every space beautiful where it is installed. It is a large-sized ceiling fan that is why you can use it most of your rooms in your home. The unit can be installed in the living room, master bedroom, other bedrooms, dining space, game room, large kitchen, or studio.
Why we recommend this?
It is the top products in this list with its 72-inch blade span and aesthetic design. The unit has three finishes; namely – black, bronze, and galvanized steel. So, you have the option to select a design of your choice if you don't like one.
The Quorum Windmill 72-inch fan contains a 6-speed setting so that you can choose the right speed level for the any time of the day. A remote control is also added so that you won't have issues to make an adjustment in the speed. It is developed by high-quality metallic material with a black finish for maximum life span. With its adaptable light fixture, it lights up your place to the attract your visitors.
In addition, the blades are produced from weathered oak, and that is why no unit can compete with its durability. Also, it is an energy efficient fan, it means that not enough cost on electricity will be spent.
Drawbacks, but not deal-breakers
This particular product is rated to be used only indoors. However, if you are looking for an outdoor version it is available here. Also, the installation of the unit is not possible on slopped ceilings more than 23-25 degrees.
Who can use it
It is a perfect unit for you if you are finding a large ceiling fan that will also work as a good fan and embellish the interior decor of your house. And, it is an ideal choice for large rooms due to its large size including living rooms, master bedrooms and so on.
What are buyers' reviews
The design is so attractive of the unit that is catching the attention of many buyers. The reviews confirmed that the fan runs silently, perfectly and installation is also very easy. However, there are few complaints regarding its installation on a sloped ceiling. But in general, the opinion of the users is satisfactory. You can check the reviews here.
2. Quorum Windmill 60-Inch Ceiling Fan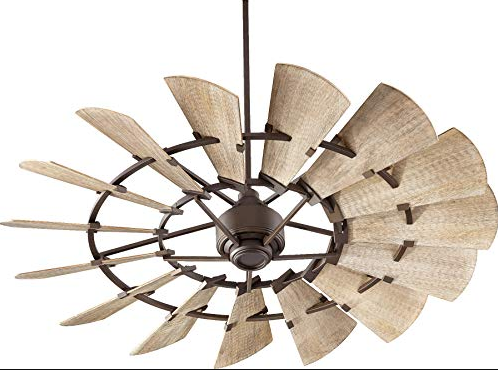 This Quorum Windmill model of 60" is the slightly smaller version of the previous model of 72″. It is also a masterpiece to give rise to the aesthetics of any home like other units. Additionally, it contains plush features that is why it is holding the second place in the list. The unit can be installed in any room of your home including dining room, living room, bedroom and kitchen too.
Why we recommend this?
The Quorum 60-inch ceiling fan is a statement piece ceiling fan that comes with plush features for optimum performance. It generates the airflow of 5982 cubic feet per minute, which is ideal for perfect cooling 24 hours a day. In addition, it features 6-speed setting that ensures maximum flexibility.
Also, you can guarantee its longevity keeping in view its weathered oak blades.
Apart from blades, it is also energy efficient that makes it one of the most demanded units in the market.
In addition, a remote control feature that allows you to adjust its speed. It is designed from high-quality metallic material along with a bronze coating so to manage its life for longer use. Its adjustable light fixture adds illumination in your room and adds a colorful and splendid look.
Who Can use it
If you want to add a statement piece ceiling fan but your space is not sufficient for the 72-inch model, you can select this 60-inch model.
What are buyers' reviews
This 60" inch fan by Quorum has a five-star rating. The design, construction and its performance are loved by the buyers with positive attestation to its overall quality. On the other hand, some buyers reported little hiccups while installing it. In short, the majority of buyers are satisfied with this item. You can check the reviews here.
3. Quorum Galveston 52-Inch Rustic Ceiling Fan – Best Rustic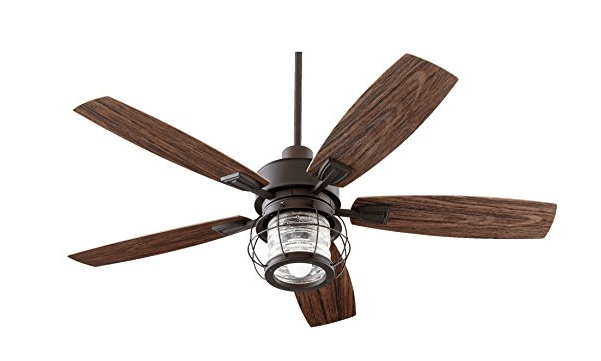 The Quorum Galveston 52" unit is a ceiling fan designed for the rustic lovers. It lies in the Galveston collection and is very famous among shoppers. It is well built to provide the best experience to its users.
Why we recommend this?
This Galveston by Quorum has a simple and classic design which is something we can't ignore. The material used for its production is plastic, which helps in preventing rust. Also, the unit is also lightweight so the installation will be easy too.
Furthermore, it contains a wall control feature to adjust the speed.
Also, the energy consumption will also be reduced because of its energy efficiency.
Its oiled bronze coating offers maximum protection from elements so that the unit can last longer.
Moreover, this item is ideal for your home with a height of 10.45 inches. You will give preference to its adjustable light fixture, which helps in brightening your room. The power consumes 14 Watts while its operating voltage is 120V. Being a member of the Quorum Patio fan line, you money will be worth spending.
Drawbacks, but not deal-breakers
Overall, Galveston 52 inch (13525-86) is a perfect fan. However, we've come to know that it does not have a remote. It would become more favorite if it came with a remote. Another point to consider is that the diameter of the downrod is 1/2 inch, which could be hard to find sometimes. Other than those, its an excellent unit.
Who can use it
If you want to get a ceiling fan for your rustic home, we highly recommend the Quorum Galveston 52-inch rustic ceiling fan.
What are buyers' Reviews
Buyers are happy with its classic and simple design. Others like the quiet operation even if it is at high speed. Also, they also praised the illumination of the light which enables them to brighten their rooms. However, they also complained about the short installation rod. You can check the reviews here.
4. Quorum Monaco 52-Inch Ceiling Fan – Best Palm Leaf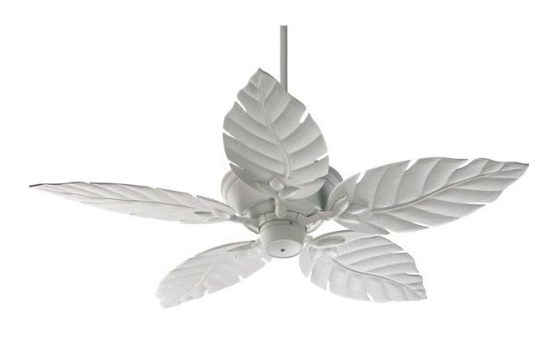 The Quorum Monaco 52″ fan comes in a studio white finish with leaf-shaped ABS blades. It is perfect for reproducing the feeling of a tropical light wind cruising across the high seas. With all its features, you will not be able to make a more desirable deal elsewhere.
Why we recommend this?
The Quorum Monaco 52-inch fan contains leaf-shaped blades which will add beauty to any place. The installation is outdoors due to its UL-wet rating. In addition, it has a 3-position speed setting, including reverse, to adjust speed seamlessly.
It contains splendid leaf-shaped ABS blades and will add beauty to your place.
Also, it is designed in a studio white finish that is why people who like classy designs give preference to it.
It is 16.75-inch high, therefore, it is an ideal ceiling fan for a rustic home.
A light kit can also be added, which you will need to purchase separately. It is constructed from high-quality wood material that will ensure its durability for you.
Drawbacks, but not deal-breakers
The Quorum Monaco (135525-8) 52-inch fan does not contain built-in lights. We would love it more if it did. However, if you need a lighting fixture, you can buy it distinctively and add it to your unit. Quorum has a lot of light kits in its products list, you need to find a compatible one for your fan.
Who can use it
This ceiling fan is produced for countryside homes to get a leafy coastal feeling.
What are buyers' Reviews
The majority of customers gave thumbs up to this ceiling fan due to its exquisite design. A lot of them reviewed that the fan is more beautiful in reality than it is in picture. The overall quality and quiet operation are praised by them. Some buyers commented that they were not able to install on their own. In general, they liked the fan and rated it very high.
5. Quorum Estate 30-Inch Ceiling Fan – Ideal for Small Rooms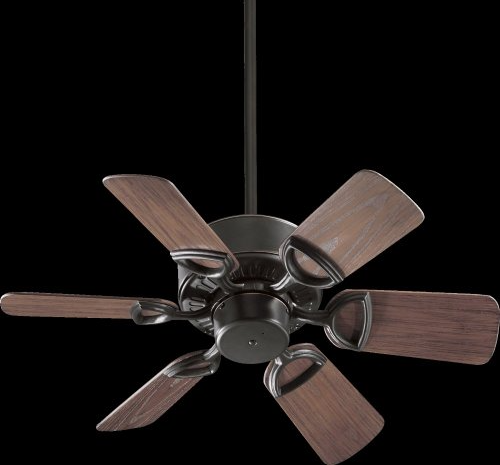 The Quorum Estate 30-inch ceiling fan is designed specifically for small rooms. The blades of the fan are 30-inches in size with a total number of 6 blades. It can be installed in houses with traditional designs.
Why we recommend this?
This fan model from Quorum has six Walnut ABS blades, which are helpful throughout the day. Additionally, it generates airflow of 3690 cubic feet per minute, hence, it can be used to get a cool breeze. Apart from that, three speed levels are available with reverse feature to make it a perfect choice for small rooms and patios.
It can bear outdoor elements due to its UL-wet ratings, and still the item will last longer.
Also, it features an old-world finish, therefore, a lot of traditional users give preference to it. This Quorum product is 12-inch high, and you can use it with remote control, that needs to be purchased distinctly. Also, it is also compatible with a lighting kit but you have to buy it separately too. It is a durable product due to its quality wood material. If you like aesthetics, its circular shape will add it to your room.
Drawbacks, but not deal-breakers
The Quorum Estate (143306-95) 30″ fan is similar to the Monaco 52″ model in terms of lighting, it does not have a built-in lights too. Since this fan can be used for small rooms, a lot of users will consider it for their bathrooms, where extra lighting is a winning point. Do not procrastinate it because the fan is compatible with lights. So, you need to purchase one separately to add it to your fan.
Who can Use It
It will be perfect choice for small rooms with six 30-inch long blades. It is also a an ideal choice for your patio, porch, or hallway.
What are buyers' Reviews
A lot of buyers who purchased this ceiling fan highly recommended it. They praised the airflow along with its noiseless operation. You will not see a single negative review on Amazon for this fan at the time of writing this review.
6. Quorum Villa 52-Inch Ceiling Fan – Budget Friendly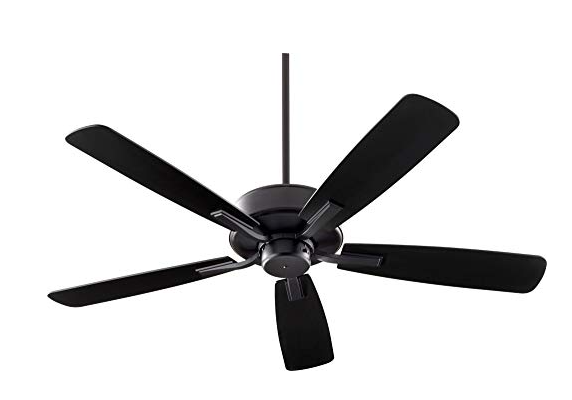 The Quorum Villa 52″ ceiling fan is made for people on a budget. It has 52-inch fan blades to ensure the powerful airflow. Apart from that, it provides plush features that make it dominating among its equals.
Why we recommend this?
When you look at this fan, the first thing that attracts you about the product is its design. The dark gray base with the noir blades and the motor, it will catch everyone's attention. At least, it attracted us, that is why we are adding it to the list and recommending it. Every black lover will buy it. In addition, the black color of the unit makes it an ideal choice for white or cream colored rooms.
The Quorum Villa 52-inch is designed with five 52-inch blades to generate maximum airflow. Its speed is adjustable so you can adjust the airflow as you like it. Also, it is 14.6 inches high, hence, you do not have to worry if you want to use it your modern building.
A light kit can also be added to it but you need to purchase it separately. You can rely on its durability due to its production from high quality material. It is another fan from Quorum's Villa collection.
Drawbacks, but not deal-breakers
Since the ceiling fan is a budget friendly, there are some compromises you need to make. One of those trade-offs is that the fan is dry-rated, which shows you can only add it indoors. This will not break the deal unless you are purchasing a fan for outdoor areas including patio, sunroom and porch and so on. If that is the case, you should consider other fans from this list including Quorum Estate 30-Inch or Quorum Galveston 52-inch models. You can install these units both outdoors as well as indoors.
Who can Use It
In these reviewed products, this ceiling fan is the best budget fan on the list. So, if you are looking for an affordable item, this is the right option for you.
Quorum Ceiling Fan Buyer's Guide
There is not much difference in buying a Quorum ceiling fan from other ceiling fan brands. The following guidelines should be taken into account when shopping for a ceiling fan.
Outdoor rating
When it comes to purchasing a ceiling fan, probably the most important factor to take into account is its outdoor rating. Ceiling fans are available in three different ratings in including – Dry-rated, Damp-rated, and Wet-rated.
Dry-rated fans can be installed for the indoors. So, they are designed for your living room or bedrooms. But if you want to install your fan outdoors including porch or patios, you need to install a Wet rated or Damp rated unit. The type of the fan depends on the area where you want to install the fan. You should consider a Damp rated fan if you want to use it in a covered area like patio or porch. On the other hand, you must need a Wet-rated fan if you want to use it in an uncovered area where the fan will be exposed to snow and rain directly including pergola.
You can use all three types of units indoors without any issue.
Size
Considering the size of the ceiling fan is another important factor to look for while buying one. Ceiling fans are designed in various sizes including 30″, 44″, 52″, 60″, and 72″. The most used size is 52-inches. You need to choose the proper size of ceiling fan according to the dimensions of your room in which you want to install it. If the size of the product is smaller than your requirement, it will not provide enough airflow. And if the size is bigger than your requirement, it will cause unnecessary electricity cost and it will also look bad.
Design
Design of a ceiling fan is another feature to consider. You want to ensure the compatibility of the fan with your room where it is going to be used and also catches your and your visitors' attention. Unique designs can be observed in the market including Traditional, Modern, Transitional, Coastal, Rustic and so on. So, choose the design according to the language of your room. You do not want to purchase a rustic fan for the sake of a modern room.
Height
When it comes to choosing your new ceiling fan, the height of the fan is also a point to consider. Some ceiling fans are low profile to the ceiling which are closely attached to the ceiling, without leaving any unwanted gap between the fan base and the ceiling. These are known as the flush-mount or Hugger ceiling fans. If you have a low ceiling, you should opt for one of these. Some of the units use a downrod between 5-12 inches long to attach to the ceiling. You will have to purchase one of these fans if your ceiling is medium to high. At times, a downrod needs to be purchased distinctly if your ceiling is too high.
Control options
Controls options are also of great importance when buying a ceiling fan. Some ceiling fans can be controlled from wall switches, some are using pull chains, and the rest of the fans are on remote, while the most modern units are designed with plus Smart (Wi-Fi) control. You want to make sure that your selected fan should have the desired control options. A lot of ceiling fans can be configured with the control systems which you can buy separately. For example, if you purchase a ceiling fan that does not have a remote control in a package, you can purchase a remote for it separately, and hire an expert to set it up for you.
Lighting options
Apart from comforting airflow, ceiling fans also shine with the help of lighting kits. In modern era, most units are designed with built-in lighting fixtures. If you require a lighting option for your room, choose a ceiling fan with lights. Some of the lights feature a dimmable option, enabling the houseowners to get the exact ambience of lighting in your space. So, consider this too while going for a new ceiling fan.
Mounting Options
It is necessary to keep in view the mounting options of a ceiling fan when you buy one. If you have a sloped ceiling, it will be a very important point to ponder. Some ceiling fans can be used on flat ceilings only. So, if your ceiling is sloped and want to install your ceiling fan there, you need to check if it can be installed on sloped ceilings.
Extra features
Last but not least, you can also consider some extra features when looking for a fan. In modern day, ceiling fans are available with additional features including swappable blades and reversible motor. If you want to use your unit with your AC in the winter, a ceiling fan with a reversible motor is highly recommended.
Conclusion
To increase the popularity among the masses, the elegance and efficiency of Quorum ceiling fans contribute to it. They are replete with finishes and designs to enhance your home settings. Whatever the location of your interior décor or home is, you can go through the list to find out the product that suits your requirement.
We hope this quorum ceiling fan reviews guide has allowed you to keep an eye on the right item. We have added the top ceiling fans from Quorum's brand in this buyer's guide along with the good and the bad of the items. If you read this guide in a proper way, we are of the opinion that you will get the ideal ceiling fan for your home.
What's Next
You can also see our great ceiling fan brands here including Kichler, Minka Aire, Hunter, Honeywell and Emerson.
If you are looking for pros and cons of ceiling fans, you can find them in this article.
Become an expert in proper ceiling fan direction here.