How to install your new ceiling fan? In this article, you will learn how!
So, after getting a new ceiling fan, the first step is to assemble it. But if you are not familiar with the instructions and you are doing it for the first time, installing a ceiling fan may seem like a hard nut to crack. However, with the proper guidelines, and a little knowledge of electrical parts, you will be able to install ceiling fans all by yourself with ease.
However, everyone cannot do it. if a ceiling fan is not installed properly can result in a huge safety issue for the house and the people in it. So, you should know when to do the installation yourself and when to call a professional.
In this article, we are going to show you how to install a ceiling fan in different situations and this guide will also help you to understand if you should do the installation yourself or get someone to do it for you.
Related Article: How does a ceiling fan work
Should You Hire Someone or Do It Yourself?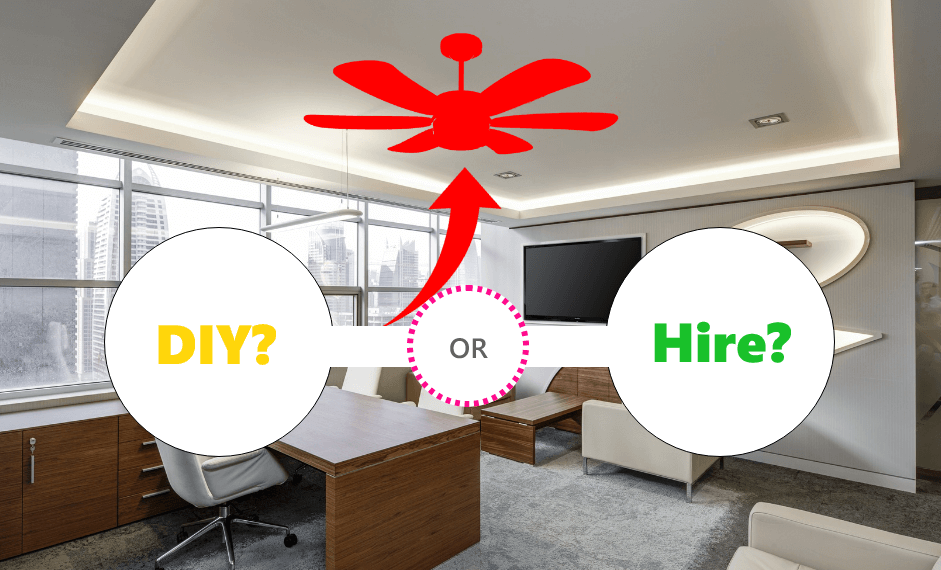 It is a straightforward task to install a ceiling fan if you are familiar with what your job is and what to do. So, if you have a know-how of electricals, have knowledge of the work you are going to perform and are confident, you can do it all by yourself.
But if you are not educated enough in terms of electrical equipment, and are not able to understand the given instructions, you should not do it yourself, and rather hire someone to get the job done. Sure, it will cost you some money, but the end result is, it will also protect you and your house from any hazards resulting from an improperly installed fan.
Tools Required
In this section of the article, we are going to tell you the required tools to install your ceiling fan. Here is a list of tools you will need with the procedure:
The fan: The ceiling fan will be the first thing!
Fan brace: To support your fan, you need this metal bar. It fastens to the joists in the ceiling, and the junction box attaches to it.
Ceiling fan-rated junction box: Usually, it comes with a fan brace. It attaches to the brace and after completing the installation, it holds the wires. And more significantly, the mounting bracket fastens to it.
Mounting bracket: It is very necessary as this is what the fan will directly connect to.
Circuit tester: This tool is very essential to test if there's electricity on a certain wire.
Screwdriver
Step ladder
Measuring tape
Wire stripper
Preparation
It will be perfect to the preparation before you do anything to make the job successful, and install ceiling fans is no exception.
Read the manufacturer's manual/instructions
Firstly, you need to go through the manufacturer's instructions and ensure you are able to understand everything. In addition, you can also read the reviews section of the same item to get additional information from other users that may be essential while installation. In many cases, manufactures would miss something, and the users will share it. To get this kind of information before doing the job, you will be able to save time while going through the installation.
Turn off power
Firstly, you have to switch off the power from the breaker. It will be ideal to put a not on the power switch to restrict others by reminding them not to switch on the electricity.
How to install a ceiling fan
Installing a ceiling fan is not a complex job. Below we have provided step by step guide that will enable you how to install a ceiling fan professionally. In this section of the article, we are supposing that you have got all the right tools, and the power is available in the location where you are going to install the ceiling fan, with a hole cut right into there on the ceiling. Now, follow this step by step process to get started:
Switch off the electricity from the breaker panel (it is very essential, so reminding you again).
Put the brace through the hole and install it between two joists (you can explore YouTube to get assistance).
Install the junction box to the brace.
Pass the wires through the mounting bracket and install the same to the junction box.
Install a down rod on the body of the fan (keep in mind the canopies).
Install the hanger ball to the downrod.
Raise the ceiling fan up and slide the downrod's hanger ball into the mounting bracket and ensure the hanger ball is sitting firmly in the grooves cut into the bracket.
After that, connect the wires. Connect the white wire coming from fan to white from electricity source, black from unit to power source's black wire, and same is the case with green. In the end, if your fan has a light kit, there is a great chance that you will get a blue wire with the fan. Make a connection of this with black of the power source.
Put the canopies into place by sliding them.
After that, install the blades to fan, one by one.
Lastly, it is time to install the lights with their covers (light globe).
That's it. Now your fan should be working when you turn it on.
Very important: You need to be positive that the brace and junction box are fan-rated and are able to support the fan's weight. Otherwise, if you will install a fan on a box that is not fan-rated, it can take down the whole thing and it can fall on anyone or anything underneath it.
Note: Your ceiling fan should be installed at least 18 inches (or more) away from the walls, according to EnergyStar.
In addition, this video can be watched in order to have a better understanding of the procedure.
How To Install a Flush Mount Ceiling Fan
Installing a flush-mount ceiling fan is the same as the installation of a fan with a downrod, the only difference between them is only one, you remove the downrod part. The rest of the process is the same. You can check our full article on: how to install a flush mount ceiling fan.
Additionally, this video can also help you to understand it in a videographic demonstration.
How To Install a Ceiling Fan Without Existing Wiring
Installing a ceiling fan without existing wiring follows the same process which we have discussed in the How to install section, except the part in which you have to bring power from a power source to the location where you want to install the fan. perhaps, you will be using "fish tape" to do the job.
This video can help you to see everything in action.
How To Install a Ceiling Fan In Place Of a Light Fixture
Installing a ceiling fan in place of a light fixture is quite similar to the ones we have already discussed above. In fact, this process might be easier because you may have already installed the brace. If you have, the next thing is to check whether it is fan rated. If it is, then you will not be worries about the installation of the brace. If it is not fan rated, then you are left with no choice than installing one. The remaining procedure is what we have already discussed in the How to install section.
Have a look at this video to get a videographic understanding.
After Installation
Now, you have performed the installation of ceiling fan professionally, and it is also functioning. What is next?
Do regular maintenance
It is essential to keep everything normal with your ceiling fan from time to time to make sure you get the safest experience by using ceiling fans. For this purpose, you need to do the maintenance of your ceiling every now and then, more or less twice a year.
Generally, ceiling fans gather a lot of dirt and dust on the front sides of the blades and also on the light globes. The efficiency of the fan is compromised due to the extra dust on the blade tips. So, it will be wise to clean the fans and to understand it better, here is our article on: how to clean ceiling fan blades.
The next thing is to make sure that the bearing contains enough lubrication to reduce wear and tear, noise and power consumption. You will see it if there is not enough lubrication on the bearings.
The last thing is to make sure that your ceiling fan is not wobbling. When your ceiling fan is running wobbly, usually it is not dangerous but it can be in some cases, it all depends on its wobble level.
Read more about it in this article: Are ceiling fans dangerous?
Read about the maintenance here.
Frequently Asked Questions
The following are a few frequently asked questions that come into the mind of the users and you may have them in your mind too.
How much does it cost to hire a professional for installation?
The cost of standard professional installation of the ceiling fan will be between $60 to $250. It entirely depends on the complexity of the job, how much work needs to be done and how much is already completed (box installation, wiring), the ceiling fan size and lastly, your location on the map.
Is it easy to install ceiling fans?
A ceiling fan installation is a straightforward task if you are familiar with electricity. But if you are not handy with it, you will need to get a certified electrician to install it for you. To keep yourself safe, the main key is the proper installation.
How to install ceiling fan downrod extension?
Usually, the installation with downrods, can be done by threading it like a screw into the body of the fan. After that, lastly, you make the installation secure using a screw that goes horizontally into both the downrod and the threads it is associated with.
How long does it take to install a ceiling fan?
If you can handle the electricity well, installing a ceiling fan can take somewhere between half an hour to two hours. Again, the time depends on the job's complexity.
Conclusion
That's it. We are confident that our ceiling fan installation article was helpful to you.
The main point to keep in mind when installing ceiling fans, that is, proper installation ensures safety while using them. You can also find out what happens when you do not install them properly and they fall as a result.
Do you want to share anything with us?
Leave it in the comments section below. Keep visiting us for more valuable articles.
What's Next
Do you know the benefits of ceiling fans? iI not, you can find them here: pros and cons of ceiling fans.
Are you curious to know if a ceiling fan can fall? Here you can find it: can ceiling fans fall?